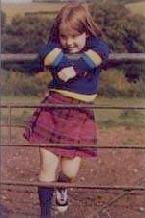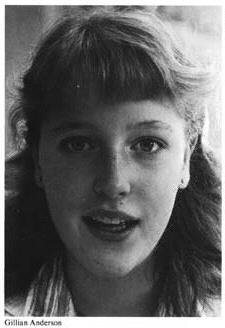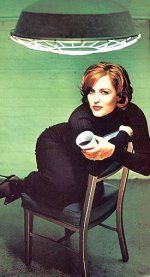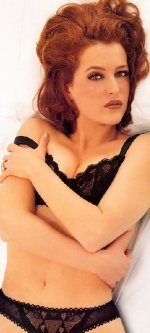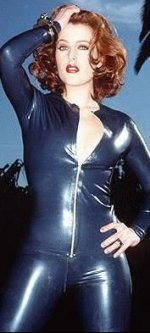 Full Name: Gillian Leigh Anderson
Date of Birth: August 9, 1968
Place of Birth: St. Marys Hospital, Chicago, Illinois, USA
Sign: Leo
Family: Parents: Edward Anderson - runs a film postproduction company, Rosemary Anderson - is a computer analyst. She has a younger brother, Aaron, and a younger sister, Zoe.
Husband: Clyde Klotz - divorced. dated
Rodney Rowland (actor) 1997-1998.
Children: She has a daughter, Piper, born on Sep. 25, 1994
Residence: Vancouver, British Columbia
Education: Attended school in Fountain Elementary and City High in Grand Rapids, Michigan. After Highschool graduation, Gillian attended the Goodman Theatre School at Chicago's DePaul University, where she obtained her Bachelor of Fine Arts degree.
GIllian Leigh Anderson was born in Chicago, IL on August 9, 1968. In 1970 a young Gillian and her parents moved to England when she was only 2 years old. When Gillian turned 11, her family moved back to the United States to Grand Rapids, Michigan. There Gillian attended school in Fountain Elementary and City High in Grand Rapids, Michigan. Giliian began to take an interrest in acting and began to study acting at DePaul University and after she graduated from High School (1986), Gillian moved to New York, where she studied with the National Theatre of Great Britain at Cornell University. There she played the leading role in a play called "Absent Friends". For that performance Gillian received a "Theater World Award" (1991). Miss Anderson eventually returns to finish her Bachelor of Fine Arts degree.

She later moved to Los Angeles, Her only previous role in television before The X-Files, was a guest spot in the short-lived series, Class of 96. Although a dry spell followed after that, she later made a low-budget feature "The Turning" (with Tess Harper and Karen Allen) (1997), and starred in the Christopher Hampton play "The Philanthropist".
Then, in 1993, Gillian made her breakthrough audition for a new series called " The X-Files ". There she met assistant art director Clyde Klotz. They got married on New Year's Day (1994), married Clyde Klotz on the 17th hole of a golf course in Hawaii by a buddist priest. A few months later Gillian found out that she was pregnant. At first she thought that this would be the end of her career on "The X-Files" but she was wrong. Chris Carter and the great team of writers managed to keep Gillian's pregnancy out of the show completely! So after giving birth to a daughter "Piper Maru Anderson" in September 1994, Gillian returned to the show and no one noticed that she had become a mother! Gillian thanked Chris Carter for his help by, naming him Piper's godfather. Gillian and Clyde were divorced during early 1997 and are now separated.

This turned out to be Gillian's big break with "The X Files" (1993) (with David Duchovny) as Dana Scully. Her film career started with the movie Turning, The (1997) in 1997 and the following year she starred in Playing by Heart (1998).


AWARDS



British Independent Film Award Best Actress for:
House of Mirth, The (2000)

Viewers for Quality Television Awards - Q Award
Best Actress in a Quality Drama Series for: "X Files, The" (1999)

Blockbuster Entertainment Award Favorite Actress -
Sci-Fi for: X Files, The (1998)

Emmy Outstanding Lead Actress in a Drama Series for:
"X Files, The" (1998)

Saturn Award Best Genre TV Actress for:
"X Files, The" (1997)

Golden Globe 1997

Emmy Outstanding Lead Actress in a Drama Series for:
"X Files, The" (1997)

SAG (Screen Actors Guild) Award 1997

SAG (Screen Actors Guild) Award 1996


QUOTES



"People generally treat me like I'm very intelligent and really, I'm much less intelligent than she is. Scully is insanely intelligent." - Gillian Anderson



FACTS
 
 Says her favourite film is Wallace & Gromit: 
The Wrong Trousers (1993) 

Has size seven feet? 



CONTACT INFO 

Ms. Gillian Anderson
c/o The X-Files
20th Century Fox
10201 Pico Blvd
Los Angeles, CA 90035 
OR
 Gillian Anderson
  c/o Studio Fan Mail/(star's name goes here)
  1122 South Robertson Blvd
  Los Angeles, CA 90035





Gillian Anderson
POSTERS AND PHOTOS HERE
PURCHASE STARCHIVES NUDES CD ROM HERE
6 CDs - 60,000+ pics - 1700+ celebritys
7 CDs - 900+ video clips - 250+ celebritys



Unlimited Downloads Movies, TV Shows, PC Games,
Software, MP3's, Books, Tech Manuals, Comics and More !



Copy PS2 games-DVD CD's copy using CD burner!
MP3's Songs More - TV Shows,Full Seasons,Sporting Events



Webmasters Sign Up